Want Vibrant Health? Make Healthy Meals!
The Importance Of Good Food Choices
It's all about the food! What we eat – every single day – is the major determining factor of how healthy we are, or are not! Yet, it is certainly a difficult prospect to eat a more healthy diet if we don't know how to prepare delicious meals that are also healthy. They absolutely do not need to be mutually exclusive! Learning how to make great tasting food that nourishes your body is probably much simpler than you imagined, but it does take a little practice. To that end, I've created a number of easy-to-make healthy recipes that taste great. Additionally, in my book I thoroughly explain what kind of foods to avoid, what kind of foods to eat and the theory behind food combining so that you'll know how to make delicious and healthy meals on your own. I created a DVD with a printable recipe booklet that you can purchase below, or at Amazon.com, and all of my recipes can also be found on my YouTube Channel Playlist. Finally, don't let the word "vegan" scare you – the feedback on my recipes is overwhelmingly positive (see below) and I'm sure you'll love the recipes as well. Bon Appétit!
---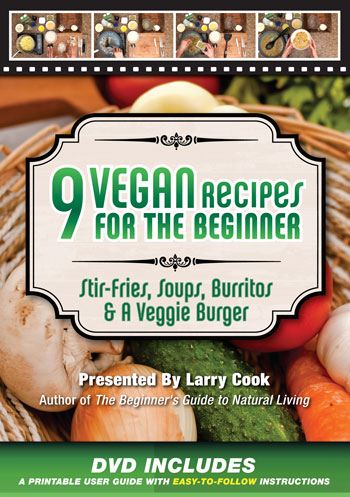 9 Vegan Recipes For The Beginner DVD
Stir-Fries, Soups, Burritos & A Veggie Burger
1) Amy's Texas Veggie Burger with Sprouts
2) BBQ Tempeh Corn Tortilla Burrito
3) Chili Bean Ginger Barley Miso Soup
4) Herb Tofu Bean and Broccoli Stir-Fry
5) Mashed Potatoes and Shiitake Mushroom Gravy
6) Kale and Almond Butter Red Miso Soup
7) Refried Bean & Shiitake Mushroom Burrito
8) Tempeh and Shiitake Mushroom Stir-Fry
9) Ginger Chickpea Miso Soup
Running Time: 52 minutes
Includes printable user guide
Yummy, thanks.
@LarryCook333 no seriously dude these are some of the best recipe vids on youtube. Really well shot and edited, no looong pointless shots watching things slowly cook! I saw this a few months back and just spent about an hour trying to find this vid again so I could follow the recipe! I shifted through LOADS of rubbish vids. Yours are my fav. Thanks a lot, keep it up!
We love this healthy recipe of red miso!
Wow man you can cook like a freaking 5 star chef. How long have you been cooking?
I love your videos!!! It's hard to find these ingredients in Japan…but you've got me hunting for coconut oil 😀
Had it and it is GOO-OOD! I like putting the broccoli in last second (after it's cooled in the bowl a lil' bit, for those who like a contrast in textures plus some enzymes too) and if you make a BIG batch, just put in as many greens (broc, kale etc) as you're gonna eat in that meal. When you reheat the rest later, add greens fresh and it's like having it the first time, all over again. Don't skimp on the almond butter or the miso mmm, mmmm! A super savory and grounding way to start the day! 🙂
Yum! I just made this now. One of the best! I didn't have the burdock or the seaweed, but I'm going to try it with that next time I go to the health food store. I added tofu and green onions to this. Definitely making it again!
Thank you so much! I made a variant that was really good. Great breakfast for a cold morning. I hope to get all the ingredients soon and make the real version.
I love how you really get into the science of it, concerned about the health as well as the taste. Not many recipe videos put so much emphasis on the health/nutrition aspect or get into the specifics of it so it's awesome that you did because I'm very concerned with that. Looks yummy!
Yummm…I love tempeh and this recipe looks so good =) I can't wait to try it, thank you.
Man… You a culinary legend. Bravo Sir.
Thanks for the recipe, that camera angle is a good one for showing whats going on, many thanks.
Awesome video!
This looks delicious and easy, yummy.
Coconut oil is a saturated fat and is extremely healthy in moderation. It tastes awesome too!
I really enjoy your videos. Thank you for putting these up!
So good! Thank you!
This recipe is amazing, your vids rule, very informative about food and nutrition as well. I would have starved to death if it wasn't for you!!
Wow this looks so good. I love Veggie burgers 🙂
I'm so excited about this soup going to make it next week…. It's grounding too…
I'm Mexican with diabetes, I find this recipe delicious, I love to make burritos of avocado in whole grain tortillas, or burritos of beans, or burritos of anaheim chilli roasted and pealed whit low fat mayonnaise, they are nice too.
Good vid, and also, ha shiitake
I love quinoa. I would love to see millets or buckwheat because i have no recipes for those. Great suggestions
Thank you again I am enjoying your recipes
This looks delicious!!
Awesome. Thanks!
looks amazing 🙂
@LarryCook333 The funny thing is I am a serious carnivore, so if that looks good to me, it must be good.
I just made this today. I couldn't put it down, I think I ate it all within 5 min. I did have some substitutes because I didn't want to leave the house to purchase the other things. I used regular black beans in stead of the chilli beans, I used canned tomatoe/green peppers from a can instead of fresh tomatoes and fresh chills, I used a whole wheat tortilla instead of a corn tortilla, I used soy sauce for the salt part, and I used shredded cabbage instead of the sprouts. Please make more vids!
Looks delicious!! Thx.
Okay, now I want to eat that. It looks pretty damn good.
Can you reheat this soup or will the live enzymes be destroyed? Great video, thank you.