Want True Health? Learn The Essentials!

Discover The Essentials In My Healthy Lifestyle Book
The Beginner's Guide to Natural Living is a straightforward, well-researched, comprehensive and easy to understand step-by-step guide to the hows and whys of nearly every aspect of natural living and how to live a healthy lifestyle. My book is an inspiring wealth of information and includes everything you need to know to implement lasting change in your life and your health. See book description below.
Buy The 240-Page Softcover Book On Amazon  |  Buy The Book On Amazon's Kindle
Buy The eBook Version For Print & Screen  |  Read The Book For Free at TheNaturalGuide.com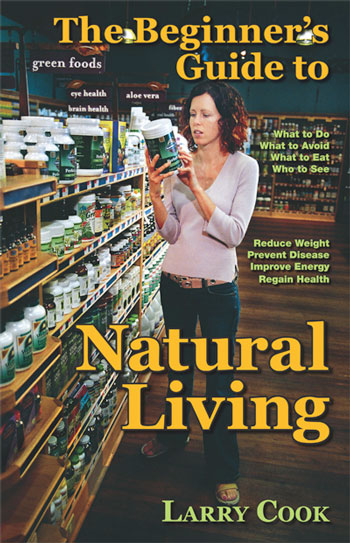 TABLE OF CONTENTS
1) Drink purified water
2) Avoid synthetic foods
3) Eat organic food
4) Shop at a health food store
5) Eat a healthy diet
6) Use potent supplements
7) Detoxify the body
8) Exercise regularly
9) Build chi energy
10) Use natural medicine
11) Visit a holistic dentist
12) Try my healthy recipes
13) Use additional resources
Softcover | 240 Pages | $17.95
ISBN 978-0-9755361-8-6
Would you like to have life-changing, health conscious habits, but don't know where to begin?
Author Larry Cook, former publisher of two popular natural living magazines, has finally encapsulated his in-depth knowledge on natural living in book form. This book presents clear guidance on everything from what to eat—and what NOT to eat—to how to choose quality natural products, which supplements to use on a regular basis, how to choose a natural doctor, why to go to a holistic dentist, and why and how to detoxify your body. It should also inspire you to implement a confidence building exercise routine. And just as important as the how is the why—the book provides a thought-provoking exposé of the pervasive, toxic manipulation of our food supply as well as an exploration of the realities of conventional medicine, which uses a disease management and drug therapy model while simultaneously suppressing the use of effective, all-natural treatment modalities. To help you further your education in all of these matters, a thorough list of book suggestions is provided throughout the book and collected in the Bibliography.
Larry's detailed explanations and generous advice (right down to shopping lists, recipes and meal plans) make this guide an absolute gem if you want to know where to begin to confidently change your lifestyle. Buy it today or read it on his website, follow his trustworthy guidance, and begin reaping the many rewards of living the natural lifestyle!
Buy The 240-Page Softcover Book On Amazon  |  Buy The Book On Amazon's Kindle
Buy The eBook Version For Print & Screen  |  Read The Book For Free at TheNaturalGuide.com
---
Book Comments From Amazon.com and Email
Dear Larry: I just wanted to tell you that I read your book last week for the second time. I first came across your book accidentally due to the YouTube Videos and ordered it off Amazon. I read it about 2 years ago when suffering from Chronic Fatigue Syndrome and a host of other issues. Since then I'm in much better health now thanks very much to you. So I just wanted to say thank you so much for your efforts and thank you for changing my life. I wish you all the best for now and the future. ~ Khuram Malik (via email)
Wonderful Beginner's Guide: I have been very interested in natural living for a while now, and slowly have been adding more and more components of it to my life. This book is a great comprehensive guide to many aspects of natural living. It gives specific examples of what to do and not to do, as well as specific product recommendations. He also has some recipes in the back of the book that I have tried and loved, and found very useful. I definitely recommend this book for anyone interested in natural living. ~ Heather P. Sponseller
Hi Larry, I'd like to thank you for your book. Since the initial reading, I've drastically changed what I eat (organic), the products I use, and how I exercise. Your book was the starting point for it all, and I'm much, much healthier these days. ~ David Schmidt (via email)
Informative, Simple and Effective: As a Naturopathic Doctor, I appreciate Larry's emphasis on the simplicity of eating a whole foods diet as the foundation for optimal health. ~ Dr. Maggie Ney, ND
The Best Handbook For Healthy Living & Intro to Organic Products: Thanks so much for writing your book…it has made the switch to organic living much easier for me. A lot of lifestyle changes….but surprisingly, none of the changes have been hard to make. We exercise, my husband lost 80 pounds, I lost 30, and we have more energy than we did 20 years ago. What a difference in four months! ~ Danna Brownlee
Full Of Great Info: I was feeling very overwhelmed on my search to living a more natural lifestyle when I ran into this book. After reading it I felt in much more control over where and how to start my desired lifestyle more effectively. Larry Cook gives great references and ways to find what you're looking for. I highly recommend this book. ~ C. Blankenship
Dear Larry, I received your book and it was absolutely great! I would recommend your book to anyone whose changing to a natural living lifestyle. Since reading your book, I am dedicated to changing my habits and getting off medication. I will be trying to locate a naturopathic physician as soon as I can. Thanks for writing the book because it got me on the right track and you gave very informative information. I hope you continue sharing information to the public. Two thumbs up. ~ Keisha Watts (via email)
Straight forward information for those who want to live more naturally but might be confused or have no idea where to begin! Nice job!! ~ Dr. Holly Lucille, ND
The Beginners Guide to Natural Living: This book changed my life, I am so happy I order it through amazon, I am sure I will order more books soon. ~ Kinsi Farahon
It is just that, a guide for beginners, and a wonderful one at that: I found this book to be incredibly insightful and eye-opening. Larry covers a vast array of topics, all of which contain very valuable information, and is sure to cite his sources. This book has truly changed my life-for the better. Thank you, Larry. ~ Taylor Frandsenon
Hi Larry, I wanted to thank you for sending me the copy of your book and very thoughtful note. I've just finished it and I am proceeding to make everyone in my general circle of friends and acquaintances read it. I haven't enjoyed insights like this since I read The Omnivore's Dilemma. You do a really nice job of balancing information from a scientific perspective, while keeping the tone colloquial enough that anyone can benefit from your work. If you're ever in Boston, I'd love to take you out for coffee, and discuss the ideas and practices further. ~ Navah Fuchs (via email)
A Great Way To Get Started: I recommend The Beginner's Guide to Natural Living to my patients because it encapsulates all the things I would want them to know at the outset: vibrant health comes from living a more natural lifestyle, and Mr. Cook brings it all together in an easily digestible form. For my patients to have success in healing, I prescribe dietary changes such as those advocated by Mr. Cook – eating whole foods, organic foods and less processed foods. If someone is looking to get healthy or reverse a disease process, adopting the principles in this book is a great way to get started. ~ Dr. Simon Barker, ND
A fantastic book on how to live a healthy life: This little gem does a great job covering the basics needed to achieve and maintain good health from a natural health perspective…It is clearly organized and packed with information that will be helpful to anyone interested in forming lifelong healthy habits. ~ Dr. Angela Agrios, ND
Thank you Larry. Excellent overview for starting a healthier lifestyle. Complete with websites and references. Contains a wealth of information – an easy to understand book. Bravo! ~ Evelyn Porter
Great book to start: This is a great book to get if you're just starting out on a more natural and healthy lifestyle. The information in this book still holds true years later and I find myself going back to it just to brush up on things. It's a small book filled with a lot of good information. ~ Jonathanon
Consistent and Informative: This book is well written. Everything is consistent with what we know today about additives, GMOs, organic etc. I really liked this book…when I need reaffirmation that this is the way to go…I read a chapter or two. Apparently there was some undeserved criticism of this book..all I can say is…people resist change and the truth can stare one in the face but still be ignored. ~ Kathie Butleron
Bought this book for my mom and it changed her life/health for the better: Mom wasn't healthy, no huge degenerative disease like cancer…but just lots of little things adding up, memory loss, arthritis, pains here and there…And although she is interested in healthy ways, (and talks to me / is supportive about what I do and what I like…) she was hesitant to make any changes to her own old routines… So, I got my mom this book as an introduction to ways she can start to feel better. I had read it for myself, and although it was mostly things I knew (I've read a lot about health over the years) what i was impressed with is that it contained the components of health and nutrition that I've found to be most beneficial in my own experience of trial and error.
So I decided to get it for my mom, thinking that she most likely won't read it…and I'd just have to chalk it up to, "Oh well, I tried". So it came as a complete surprise that she -first of all- read it, and then was utterly ASTONISHED when I found out that she actually started implementing EVERY SINGLE suggestion in the book! 🙂
So then, I had to find out how it was able to make such an impact…So I was like "mom, I've told you how important getting omega oils is, like taking flax oil" she quickly quipped back "but you didn't tell me WHY!…" So, for whatever reason, the WAY in which this book was written combined with the practicality of the suggestions …has changed my mom's health for the better. And further, has managed to shift her belief /inspired her to know that she now has an active ROLE in maintaining her own health (!) So pretty cool indeed…So, I'm actually writing this to say, thanks Mr. Cook! 🙂 ~ AshlieLove
Perfect Introduction to Natural Living: For those of you who are confused by conflicting health care data, I highly recommend The Beginner's Guide to Natural Living. I have been educating people about natural health for over 20 years and ever since this book came out, my job has been much easier. It provides the reader with easy-to-understand information on everything from how to (painlessly) transition to a better diet, how to find a good alternative care practitioner, how to find products to support you in making changes, and most importantly… WHY it's so good for you to do so. It even has pictures of many of the staples of a natural foods diet so you can bring the book with you to your local health food store to show them what you want. If you've ever felt embarrassed by not knowing the difference between a naturopath and a homeopath, or between a vegetarian and a vegan, or what a tincture is or why it's best to clean your body, hair and teeth with natural products… this is your new bible!!! ~ Lori Lively
Buy The 240-Page Softcover Book On Amazon  |  Buy The Book On Amazon's Kindle
Buy The eBook Version For Print & Screen  |  Read The Book For Free at TheNaturalGuide.com